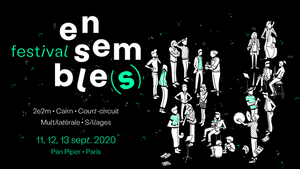 After a Spring and Summer of cancellations, I am happy to be able to announce some upcoming concerts and remote events this Fall. 

In September, 2E2M will be performing Pastorale - Hommage à Alfred Schnittke for piano quintet alongside the work to which It pays homage, Alfred Schnittke's own piano quintet. This concert will take place on Saturday, September 12th, at 8PM, in the new Festival 
Ensemble(s) . 
On Sunday, 4 October, Omaggio a Berio , composed for the International Contemporary Ensemble in 2012, will be featured in the Daniel Pearl Harmony for Humanity Concert broadcast. 
Then on Sunday, 22 November, I will be joining the Tiptoe Company in presenting the immersive concert experience Hacking the piano at Wien Modern. This concert, first performed at the Transit Festival in 2018, will feature Im blutstrahl des mondes alongside the music of Tim Mariën, as well as live electronics performance in the interludes punctuating the concert. Anneleen de Causmaecker will once again be providing the scene design, 
featuring her light and sound boxes. 
I am particularly delighted to announce that I am working with Keiko Murakami on a new work for contrabass and electronics, featuring both Keiko's newly acquired instrument and her extraordinary vocal ability, which you can hear, for instance, in her interpretations of Richard Barrett's fascinating pieces for flute and voice, 
Dying words. The new work will have a radiophonic première at the end of 2020, in the Alla breve broadcast of Radio France. The 10-minute work will first be heard in smaller excerpts over the course of several emissions, and then in its entirely in the final broadcast. 
Some highlights to look out for in 2021 are the (postponed) première of A complete history of music for Jack Quartet - which you can hear an excerpt from here - and a portrait CD release (once again, postponed from 2020). 
Here's hoping the year 2020 finishes better than it started…