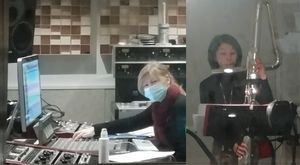 In a difficult year - with many cancellations - I was delighted to have two new works premièred via radio broadcast: a brief excerpt of the 20-minute quartet with electronics commissioned for JACK quartet by Wittener Tage für neue Kammermusik broadcast on WDR Radio last Spring, A Complete History of Music (Appendix 2):
And this month, another new work with electronics is being broadcast, one composed in a - spiritually close but physically distanced - collaboration with flutist Keiko Murakami for contrabass flute and her extraordinary voice. Il y a plus d'eau que prévu sur la lune was commissioned by France Musique for Anne Montaron's Alla Breve radio show, which features world premières presented first in five short segments of two minutes each, followed by a broadcast of the complete work. It was recorded and mixed in the historic studios of the Groupe de Recherches Musicales (GRM) at Radio France (pictured above).
You can hear the complete work - along with a portrait interview with myself and Keiko, also featuring other compositions - below or directly on the France Musique streaming site.
You can also listen to the binaural version directly here.
Coming up in 2021-22: Portrait concert in Ruhrtriennale 2021 in August, JACK quartet première in Cologne in October, and new works for Klangforum Wien, Ekmeles with trombonist William Lang, and the Saint Lawrence String Quartet.